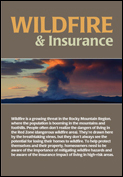 Homeowner insurance policies for residences located in wildfire prone areas are often misunderstood by the policy holder. Participate in next week's Firewise - Ask an Expert workshop and discover what insurance companies know about properties; how they make policy related decisions and most importantly learn what to do to ensure a policy is all it should be when a wildfire strikes. The free virtual workshop is being broadcast Thursday, September 15 at 12 pm (Mountain Daylight Time).
The Firewise virtual workshop series provides conference quality, free learning opportunities for all wildfire stakeholders by connecting them with leading researchers and practitioners in a live interactive format. Each session is 60-minutes and features a 45-minute conversation with a topic expert and closes with 15 minutes of questions directly from the session's live participants.
September's Understanding Insurance in the Wildland Urban Interface will feature Ask an Expert guest Carole Walker, Executive Director, Rocky Mountain Insurance Information Association.
Advance registration is required.
Upcoming Sessions:
Tuesday, October 11 - 11am MDT:  Community Risk Reduction Success Stories
Wednesday, November 9 - 1pm MDT:  Wildland Urban Legends